Efficiently collect valuable information!
Easily create any type of online form you need and start gathering important and useful customer data. Build signup forms, order forms, contact forms, surveys, quizzes and any form you can imagine, within minutes without coding.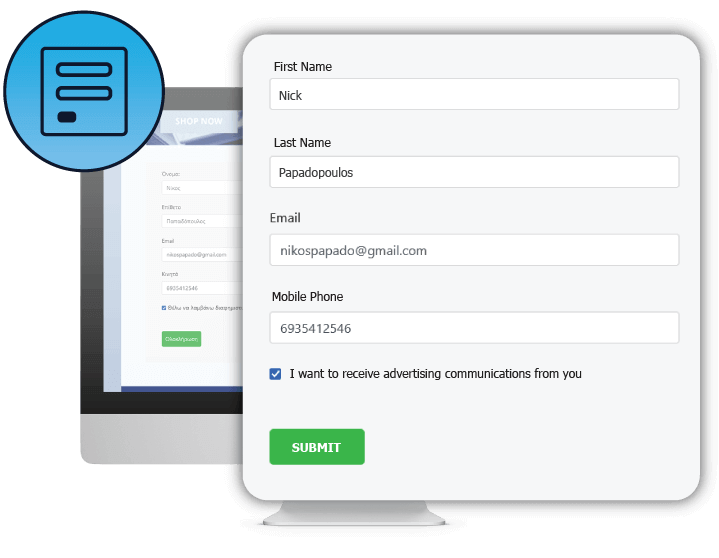 Online Forms

How Forms Work
Step 1 - Build your Form
Choose from a template or start your form from scratch. Complete the form in a few minutes. You don't have to write a single line of code, our drag n drop editor has you covered.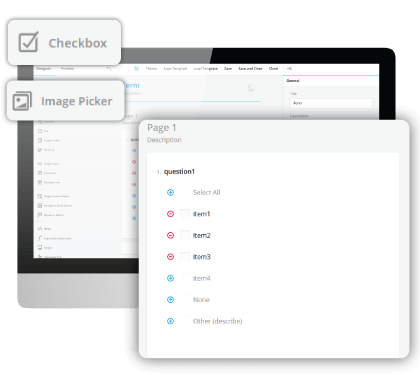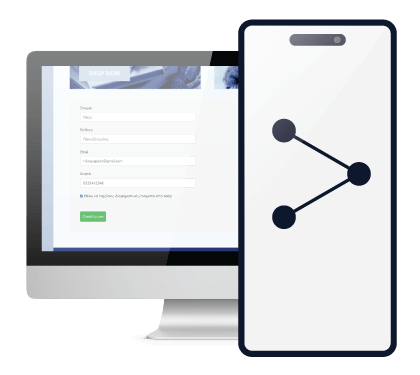 Step 2 - Share the Form
Embed the form in your website. Send it via SMS, Viber or Email. Share the form's URL on social media.
Step 3 - Check the Results
Review the answers and the response rate. Export the reports for further analysis.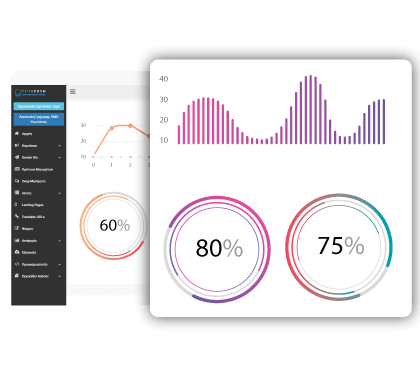 Collect customer data and grow your audience!
Online Forms

Explore the unique Features

Dynamic Forms
Use conditional logic to create forms that adapt to the user's answers and show/hide next questions based on previous answers.

20+ Question Types
Name, email, mobile, address, drop-downs, multiple choice and 15 more question types are available to create any online form/questionnaire you might need. We provide you with all the necessary fields to collect the information you wish.

Branching Questions
Depending on the user's answers, the forms serve specific follow up questions, so that the user may elaborate further on his/her answers.

Public or Private Forms
Your forms can be public, meaning that they can be online so anyone can fill them out without restrictions. Alternatively, they can be private, meaning that you may send them to specific recipients via a personalized link via email, SMS or Viber.

Customized Content & Reporting
In case your form is private, you can customize its content with personalized information about every recipient. Also, in private forms, you may have individual personalized reports for every recipient.

Expiration Date
Your forms can have an expiration date. In other words you can set a specific time frame in which form submissions will be accepted. Submissions after the expiration date will not be accepted.

Time Limit
You can set a specific time limit in which users can fill in the form. The time limit starts from the moment a user starts the submission of the form.

Digital Signature
Apart from any type of question, your form can include a field where users can insert their electronic signature. A very useful feature in cases where your form is a contract or legal agreement.

Mobile Number Verification
Opt-in Mechanism
The forms have a special field for verifying the users' mobile. As soon as the user completes a form, our system sends a one time password to the submitted mobile in order to verify its validity.

Email Verification
Opt-in Mechanism
The forms have a special field for verifying the users' email address. As soon as the user completes a form, our system sends a one time password to the submitted email in order to verify its validity.

Advanced Customization
Customize everything on your form, not only in terms of functionality, but also in terms of appearance. Adjust its layout, design and coloring to match your branding.

100%
Responsive
Create responsive forms that appear and function correctly on any device, either on desktop or on mobile.

GDPR Ready Forms
You can add a specific checkbox for obtaining the GDPR consent in any form, this way you can collect users' permission in order to send them advertising communications.
ANTI-SPAM Mechanism
The embedded Honeypot Spam Protection mechanism protects your forms from malicious bot submissions, so you may collect only real and valid information.

Automated Notifications
Each time a new user completes one of your forms, you automatically receive a notification email that lets you know all about the new submission.
Guaranteed Email Deliverability
Thanks to our advanced email system we guarantee that you will receive all the relevant email notifications as soon as a user completes your form.
Do you need help?
Yuboto's Messaging Experts are here to guide you make the right choice!